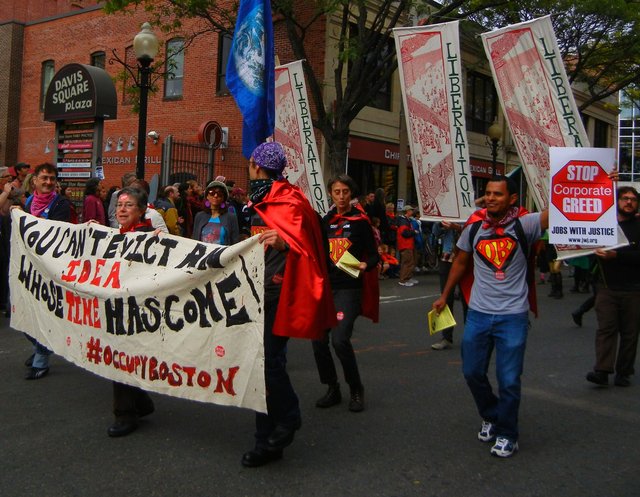 If I had to describe honkfest to someone who'd never heard it, I'd call it a "big activist mardi-gras street party in Somerville". HONK! is loud, flamboyant, colorful, and full of energy.
One of HONK's big events is a parade that runs down Elm Street and Mass Ave, from Davis Square to Harvard Square. Occupy Boston marched in this parade, along with Veterans for Peace, Jobs with Justice, SEIU 615, Bread and Puppets, the Royal Frog Ballet, City Life/Vida Urbana, and bands. Lots and lots of really awesome marching bands.
While we were lining up for the parade, I noticed some of the signs and banners that people were carrying; many of them had slogans that you might see at an Occupy action. So I started writing down a list:
Stop Corporate Greed
Reclaim the Streets
Smash a Bank
We are the 99%
Oink if you love the 1%
Hey 99%, Eat Cake!
End Stop and Frisk
End Corporate Speech
Give us Bread and Roses too
An Injury to One is an Injury to All
Solidarity
People Before Profit
Tax the Rich
I think you could make the argument that Occupy's most important contributions are the movement's ideas and ideals. Those ideas and ideals were on proud display at HONK!