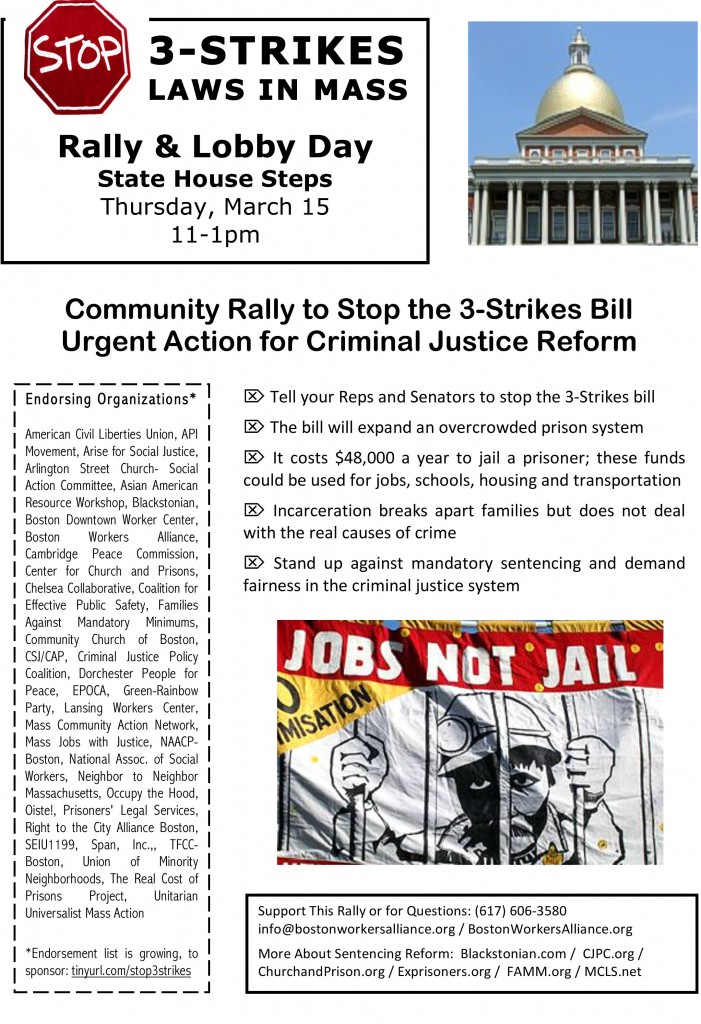 Help stop this costly and harmful bill before it is too late: the "Justice System" is Unjust and the time for action is now! We will rally on the State House steps and then enter the building to visit our elected officials.
Why speak out against 3-strikes
Incarceration breaks apart families but does not deal with the real causes of crime
This dangerous bill will expand an overcrowded prison system
It costs $48,000 a year to jail a prisoner; these funds could be used for jobs, schools, housing and transportation
Stand up against mandatory sentencing and demand fairness in the criminal justice system
What will happen if this bill is passed?
Under this proposed law, individuals convicted of three violent felonies would become ineligible for parole or any reductions in sentencing for their third conviction — regardless of circumstances — and would receive the longest mandatory sentence for that conviction. Additionally, anyone convicted of three felonies would be classified as a habitual offender and required to serve two-thirds of their sentence before being eligible for parole. In some circumstances, this has included juvenile convictions.
Who will be affected by this bill?
There are approximately 11,800 people incarcerated in the Massachusetts prisons. Of these, about 5,500 prisoners are serving time for crimes that would qualify as 3 Strikes crimes. Based on a conservative analysis of sentencing data provided by the Massachusetts Sentencing Commission, between 150-250 of these offenders would likely be sentenced under 3 Strikes.
What's the alternative?
Aaron Tanaka, writing to the Boston Globe: "We should leave the power of harsh sentencing to the judges, not some automatic system that disregards the details of the offender, the wishes of the victims, or the evidence of rehabilitation. We can be smart on crime by tackling drug addiction, fighting poverty, improving reentry services, and challenging a culture of violence. Beating our chests and promoting draconian and unthinking laws only reveals the Legislature's tendency for political pandering over sensible solutions. In the case of a trial, judges come to understand all of the circumstances of the crime and the convicted felon's history. So the judge is in the best position to set the sentence and to protect the citizenry."
To read more about sentencing reform:
blackstonian.com
/ CJPC.org / ChurchandPrison.org / Exprisoners.org / FAMM.org / MCLS.net
Endorsing Organizations*
Aid to Incarcerated Mothers, Alternatives for Community Environment (ACE), American Civil Liberties Union-MA, APIA Movement, Arise for Social Justice, Arlington Street Church (Social Committee), Artists for Humanity, Asian American Resource Workshop, Black Educators Alliance of Massachusetts, Blackstonian, Boston Workers' Alliance, Cambridge Peace Commission, Center for Church and Prison, Chelsea Collaborative, City Life / Vida Urbana, Coalition Against Poverty / Coalition for Social Justice, Coalition for Effective Public Safety, Codman Square NDC, Community Change Inc., Community Church of Boston, Community Labor United, Criminal Justice Policy Coalition, Dorchester People for Peace, EPOCA – Ex Prisoners Organizing for Community Advancement, Families Against Mandatory Minimums, Gavin House, Grove Hall Neighborhood Development Corporation, Hyde Square Task Force, Jewish Alliance for Law and Social Action, Jobs With Justice, Lansing Workers Center, Louis D. Brown Peace Institute, Marcus Garvey House, Mass Alliance of Minority Law Enforcement Officers (MAMLEO), Mass Jobs with Justice, Massachusetts Communities Action Network, MassUniting, NAACP New England Area Conference, National Association of Social Workers-MA, National Lawyers Guild-MA, Neighbor to Neighbor MA, New England United for Justice, Nuestra Community Development Corporation, Occupy The Hood Boston, Oiste Latino Civic Engagement Organization, Partakers, Inc., Prisoners' Legal Services, Right to the City Alliance Boston, Rosie's Place, Roxbury Dorchester Labor Committee, SEIU 1199 Healthcare Workers, SEIU 615 Janitors and Security, Side-by-Side Community Circle, Sisters At Work, Social Workers for Peace and Justice, SPAN, STRIVE, Inc., Students for Sensible Drug Policy, Northeastern University School of Law chapter, Survivor's Inc., The Real Cost of Prisons Project, Union of Minority Neighborhoods / MARC, Unite Here! New England Joint Board, Urban League of Eastern Mass, UU Mass Action, Voices of Liberation, Young Cape Verdean Club
*Endorsement list is growing