Where are the tent monsters?
OM community contribution (Scott Day)
It has been noted and stated many times that Occupy Melbourne is insular. In the sense of having a news source that easily and effectively communicates with Melbournians, Victorians, Australians and the rest of the 99%, this is true – for too long, we've not had a simple, streamlined means of communication.
However, we at OM are just people of course, and Occupy Melbourne has suffered, and continues to suffer massive burnout – we fought hard and we fought long to keep an occupation alive and continuous, 24/7. We did so for 70 days and was quite an amazing event. Most of us are either recovering, travelling, working. Some of us are still committed full-time to it, and many work very hard indeed.
The Occupy movement is entering a new phase of actually going forth and enacting these changes in the communities of the world – OM is no exception to this and has several projects underway. The next 6 months will be big – stay tuned.
Of course, one could say there's millions in Melbourne who could have, and should have, been more involved in Occupy. How could you not agree with the ideas and believe these changes can occur in our lifetime, and we get to be the generations to see through, to live through, to even enact, this wonderful change.
The digest will attempt to maintain daily posts, covering local contributions, as well as many links and summaries of articles, videos, events, concepts and discussions occurring.
Occupy Schlossplatz
Event/Concept (Germany)
Occupy Schlossplatz calls for the community to openly come together and attempt to redesign its city square in Stuttgart, Germany. This is something talked about often within OM as our own city square is neglected and corporatised.
Article: "The US Government Is Running A Massive Spy Campaign On Occupy Wall Street"
From Business Insider, May 24 2012
Does Obama, as he claims, "stand with the 99 percent," or with those who cannot stand them?
Video: Solidarite
Source: Youtube, May 24 2012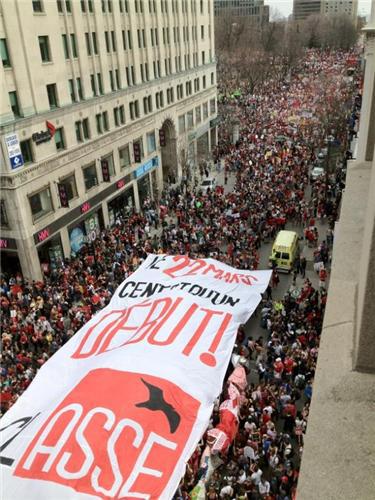 Students, union leaders and even teachers marked the 100th day of a strike that has garnered international attention. The rally and march by 150,000 people was one of the biggest signs of opposition to Premier Jean Charest's planned $1,800 tuition hike over seven years.
Ref: 100th day of student strike (London Free Press)